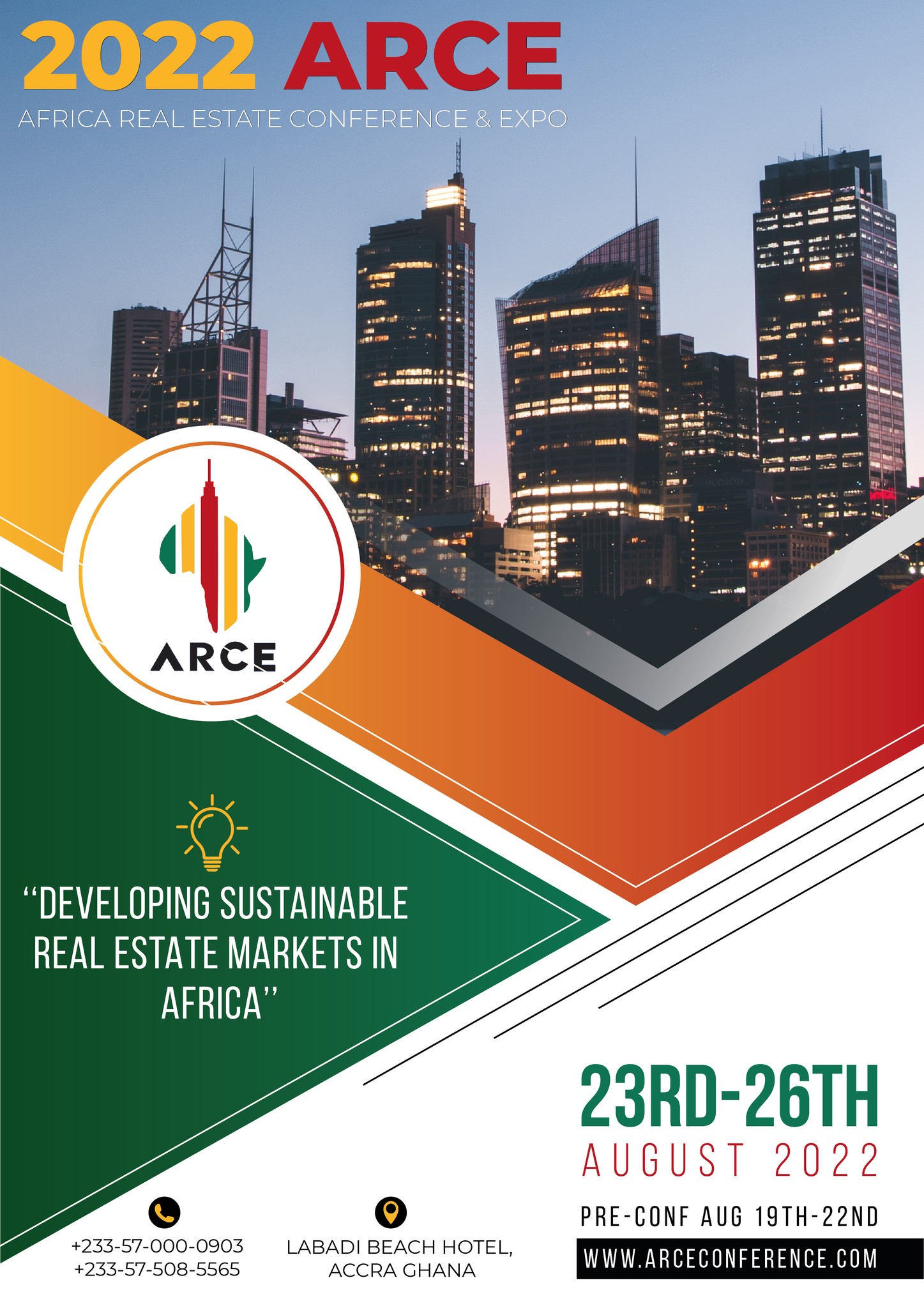 The Africa Real Estate Conference & Expo (ARCE 2022)
The Africa Real Estate Conference & Expo (ARCE 2022) will be hosted at the Labadi Beach Hotel in Accra, Ghana from the 23rd of August to 26th with a Dinner and Awards night on the 26th.
Theme of the Conference: "Developing sustainable real estate markets in Africa"
Two days of GREEN Designation Class (August 19th & 20th)
Tours – 20th & 21st
Registration now open
GREPA (Ghana Real Estate Professionals Association): An organization set up in 2011 to bring Professionals in the Ghanaian Real Estate Industry together for purposes of promoting the goals of its members, promoting ethics and professional standards within the industry as well as creating and supporting local and international networking opportunities for its members. We are connecting with Global Stakeholders in the industry to promote Real Estate in Ghana, gathering support for Legislation, Research andEducation.
Over the past decade, GREPA has achieved remarkable successes and notable milestones among including:
The first organization in Ghana to bring together real estate professional in Ghana together.
Joining the US National Association of Realtors Bilateral Partners with an agreement signed in 2015
Obtaining License to teach NAR certification and designation courses
Joined a stakeholder in drafting, reviewing and advocating for the passing of the Real Estate Act of 2020
Providing industry professionals with countless resources
Creation of a multiple Listing service (MLS) for Ghana with its public facing portal LoopGhana.com
Syndication of the loop to Realtor.com
GREPA hopes to provide a solution to the dearth of real estate professionals that understand the African market by rolling out a number of carefully designed educational packages in Ghana to provide in-depth knowledge in real estate market dynamics across the entire African continent. We are among the very few organizations faced with the responsibility of improving Africa's real estate
space. There are number off challenges impeding the optimal exploitation of Africa's real estate potential, we believe that continuous training, education, and advocacy for proper legislation, the industry will reach the full potential.